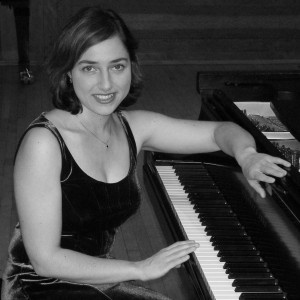 Tours by Anna Khanina:
Tours prior to 2009–2010 season not listed.
Anna Khanina, Piano
Anna Khanina has been praised for her "brilliant technique, musicality, and irreproachable taste." (Ibbenbuehrener Zeitung). Professor Bernd Goetzke said: "In her performances, there is always the impression of radiating charisma, based on a deep understanding of the music, an absolutely sincere approach, and a true artistic motivation. She is totally in touch with the music that she is performing."
Ms. Khanina enjoys a successful performing career. She regularly appears as a soloist and with chamber ensembles in Europe, United States, Canada, and Israel. She has performed at such venues as 92nd Street Y Kaufman Hall, Symphony Space, Staller Center for Arts, Trinity Church, Yamaha Piano Salon in New York, Dame Myra Hess Concert Series, Pianoforte Chicago, Ganz Hall at Roosevelt University, Georg Phillip Telemann Hall in Magdeburg, Muendener Schloss, Klavierhaus Doell, and University of Music and Drama in Hannover, Germany. Her concerts were broadcast live on WFMT Chicago (2007, 2010), The Voice of Music radio from Jerusalem Music Centre (2008), McGraw Young Artists Showcase WQXR New York (2011), and wiox.org (2011). Next season, engagements include tours of Israel and Germany, Roerich Museum in New York, DePaul University, and Dame Myra Hess Concert series in Chicago.
Ms. Khanina is a sought-after chamber musician and collaborator. She has been invited to Braunschweig Classix Festival, Schleswig-Hollstein Music Festival, Hochschule fuer Musik und Theater Hannover Chamber Music Festival, the Norfolk Festival, and Banff Music Centre. Before she moved to the United States, Ms. Khanina had played in a duo with the clarinetist Yu-tzu Liu in Germany. The duo won a scholarship for young artists, which gave them an opportunity to perform all over Germany. After Ms. Khanina came to Chicago in 2005, she formed a duo with Israeli violinist Guy Figer, and they performed internationally. Their debut CD "Unearthing" came out in February 2012. Recently she collaborated with Steven Doane, Frank Morelli, Alan Kay, Yura Lee, and Igor Begelman. Anna Khanina's long list of awards include prizes at the Val Tidone International Piano Competition, the Second International Piano Competition in Panama, the Seventh International Competition Ciutat de Carlet, the Grieg Competition in Oslo, the Nueva Acropolis Competition in Madrid, and the Classica Nova Competition in Hannover.
Ms. Khanina's solo and chamber repertoire consists of many pillars of the standard classical repertory. A strong advocate for new and contemporary compositions, she has had the privilege of premiering many new works and has worked with many composers.
Besides being a soloist and chamber musician, Anna Khanina regularly appears as an orchestra pianist. After playing for Michael Tilson Thomas in 2010, she was invited to join the New World Symphony Orchestra in Miami, Florida. Since then, she regularly appears with the New World Symphony orchestra under such conductors as Michael Tilson Thomas, Jeffrey Milarsky, Osmo Vänskä, John Adams, Stephan Deneve, and Ludovic Morlot.
Anna started her musical education at the age of five. In 1996, she graduated with honors from the famous Gnessin School of Music in Moscow for gifted children, where she studied with Lidia Grigorjeva. Upon her graduation, she immigrated to Germany, where she began studies with Professor Bernd Goetzke (former student of Arturo Benedetti Michelangeli) at the Hochschule für Musik und Theater Hannover. In 1999, she graduated from the Hochschule für Musik Magna cum Laude. In 2001, she earned a Master's degree from the same institution, and subsequently went on to pursue an Artist Diploma in the Soloist-Class. At the same time, while pursuing her studies at the Hochschule für Musik, Anna simultaneously pursued a second Master's degree in Performance at the Gnessin Academy of Music, where she again graduated with honors in 2004. In 2007, she completed a Piano Performance Diploma at the Chicago College of Performing Arts at Roosevelt University, where she studied as a full-scholarship student of Solomon Mikowsky. Upon her graduation in 2007, Ms. Khanina was accepted into the Doctoral of Musical Arts Program at the State University of New York at Stony Brook as a full-scholarship student studying with Gilbert Kalish.