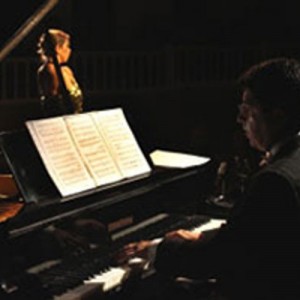 Tours by Mario Alberto Hernández:
Tours prior to 2009–2010 season not listed.
Mario Alberto Hernández, Piano
Born in León, Guanajuato, pianist Mario Alberto Hernández began his studies with Ma. Eugenia Arvizu and later continued with Ma. Teresa Rodríguez. At the same time, he also studied violin with José Homero Melgar and attended law school at the University of Guanajuato.
As a piano accompanist and internal conductor, he has performed at festivals such as the Cervantino, the Sinaloa Festival and the Ciudad de México, and with the concert opera of the orchestras Filarmónica de la Ciudad de México, the OFUNAM and the Sinfónica de Minería. He studied conducting at South Mississippi University and made his debut as a conductor in 1993 with an orchestra formed by musicians of the Sinfónica del Estado de México and the Sinfónica de la Universidad de Guanajuato orchestras.
Mr. Hernández was the piano coach for Beethoven's Ninth Symphony, collaborating with the renowned conductor Sir Neville Marriner at the Bellas Artes Palace. In 1995, he conducted Rossini's Il Barbiere di Siviglia, Puccini's La Bohème and Suor Angelica. In 1999 and 2005, he conducted Donizetti's L'Elisir d'Amore at the Escuela Superior de Música. He has performed with prestigious singers such as Leona Mitchell, Francisco Araiza, Ramón Vargas, Fernando de la Mora, María Luisa Tamez, among others.
Mario Alberto has collaborated with the OFUNAM, the Filarmónica de la Ciudad de México, with the Coordinación Nacional de Música del INBA and several embassies. Because of his pedagogical labor, he has become one of the most enthusiastic promoters of young Mexican musicians.